7, November 2012 | 0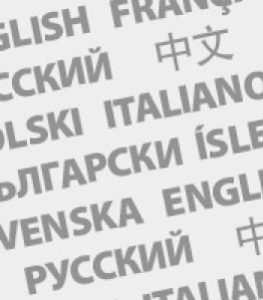 The company website has various functions. On the one hand it is a magnificent business card on the web allowing us to put our name out there. What's more this informative function also plays a commercial function, with the company becoming an e-commerce platform.
Unlike other less versatile media, like cards, leaflets or billboards, the website holds clear advantages:
Its character is both dynamic and constant: it is always accessible but its content is constantly being modified and adapted.
The design and making of a website is more economic and creator friendly than editions of corporate material found in printed media. Not only do we gain time, but there is less need for investment too.
Its global scope: It allows us to reach clients from every point of the globe. Once the content is produced, we can reproduce it in whichever languages are needed, without costs soaring.
A multilingual website is without a doubt a helpful tool for any new business or any business wishing to develop in exportation or internationalization. In order to help with the success of this international movement, you must adapt yourself to the clients' preferences, be it in a particular environment, with a specific language and culture.
What we must keep in mind whilst adapting the website
Firstly, we have to determine our target audience: to discover who our potential clients are, where they are located and which culture they adhere to in order to help us select the languages and various dialects that we need to include.
We want to share certain data with each client. Information about standard products, technical support and tutorials are clear examples of global content. Once produced in a language, this material is the object of translation into the rest of the languages on the web.
We can also provide local content in a particular language specifically for a set audience or market. Special products, local promotions and advertising campaigns are three examples of information subject to adaptation or rewriting in the language of the potential client. 
Although you can opt for a multilingual website that contains the same information in every language, you must be vigilant that you are not neglecting the different culture of local clients. In short, a website whose content is adapted to each language moulds itself to the local culture and interests of each client.
A multilingual website is profitable
As previously proposed, there are studies that determine our preferences when it comes to navigating around the network, we prefer to read texts written in our language; and so do our clients. Through a multilingual website, we establish a profitable proximity strategy for our business; the probabilities that the potential clients purchase products or establish commercial relations with a supplier who speaks to them in their own language are greater when:
People who access content in their own language, because they have a better understanding of commercial messages;
These messages are more easily remembered;
There is a stronger link to the message, making it more likely to be influential to the client.

The cost of linguistically adapting the local market, also known as localization, involves bettering the service that contributes to the loyalty of the end client. Above all it's a short and long-term profitable investment.