30, September 2014 | 0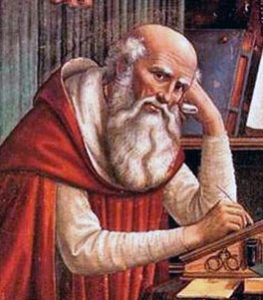 Today, 30th September, we who are dedicated to the world of translation celebrate our day. But… why this day? In 1991, the International Federation of Translators (FIT) established the 30th of September as the "international Translation Day" because this is when Jerome of Stridon died in the year 420 d.C.
Considéré comme l'un des pères de l'Église latine, saint Jérôme traduisit la Bible de l'hébreu et du grec au latin. Sa traduction, connue sous le nom de « La Vulgata », fut celle employée par l'Église catholique jusqu'en 1979. Compte tenu de l'immense influence de la Bible sur la société à travers les époques, la tâche traductologique de saint Jérôme a joué un rôle clé dans le développement des cultures, notamment en occident.
On ignore souvent l'importance que revêt une traduction. D'ailleurs, les conséquences d'une mauvaise traduction peuvent être catastrophiques. Demandez sinon aux traducteurs de l'agence de presse Domei, qui ont mal traduit en 1945 le terme « mokusatsu » (sans commentaires) prononcé par le premier ministre japonais, et qui ont ainsi involontairement provoqué le bombardement de Hiroshima et de Nagasaki.
Merci à tous ceux qui ont permis tout au long de l'histoire de diffuser la culture et le savoir, et qui ont contribué à la communication interculturelle. C'est grâce à eux que nous avons à notre portée de grands textes de Shakespeare, Voltaire, Goethe et Murakami, parmi d'autres.
Chez Komaberri Bat nous tenons à féliciter aujourd'hui le vaste groupe de traducteurs qui fait partie de l'équipe KOMA et qui nous permet de proposer des services de qualité à nos clients, grâce à leurs efforts, leur professionnalisme et leur dévouement.